NL
Welcome to No Limit Engineering
Our Most Popular Products
We have ordered a few chassis', wide rides, fat bars, fuel tanks, battery boxes, etc. Every order has been correct, on time, and communication is easy. Rob, Tina, and the whole crew are salt of the earth people. Always happy to do business with them! Thank you guys!
We bought a complete chassis for our 55 Chevy truck! We could not be happier with the chassis and the folks at No Limit! They did everything they said they were going to do and more! Spending the week in the Smokey Mountains this week and this truck handles great on these winding mountain roads! Heading over to No Limit today to show them the finished product!
I purchased a fat bar kit for my Ford truck. Since I was fairly close I asked if I could pick up at the shop to save shipping. During pick up everyone was friendly and showed me things around the shop. When I paid my bill I realized not only did I save shipping they knocked off another hundred for me picking it up. Oh and the parts I got were top notch. Definitely doing business again.
Them boys over there know how to build the best chasis you ever seen in your whole life. Make sure to send to color tech powder coatings for over 500 color varieties
Purchased rear 4 link and front IFS kits for my c10. Products fit really well and as described (great quality). I am a rookie installer and any questions I have the business is always more than willing to help over the telephone and in writing with great patience. I will continue to shop here since due to product quality and service.
Purchased a Wide ride and Fat bar setup, as well as gas tank, rear axle and brake set for my 57 Chevy truck. Rob and the crew worked with me to be sure I was getting exactly what I needed. Everything went together as it should. Could not be happier with the service and quality of the parts. After sale support is excellent. My only gripe is the instructions could sometimes be clearer, but certainly not a huge issue. Definitely would recommend No Limit.
Called and they picked up on the first ring. Impy was very informative and helpful! Will be placing an order soon!
These guys were great to deal with. Very polite and trustworthy.
Great shop to do business with. Very polite and on time, no BS kinda place.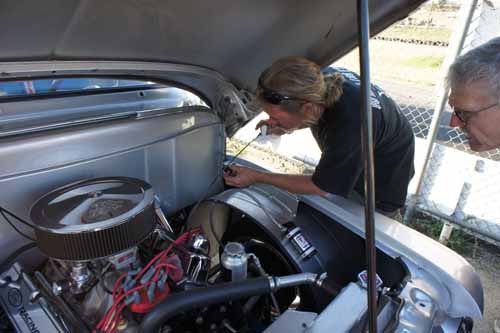 Knowledgeable Staff
Our friendly and experienced team members are ready to help you.
25 Years of Experience
We've been changing the hot rod industry for over two decades.
Unbeatable Products
You won't find products made with more dedication and craftsmanship anywhere else.